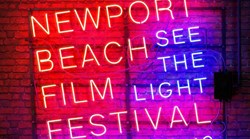 Newport Beach, California (PRWEB) April 19, 2013
Celebrated as one of the leading lifestyle film festivals in the United States, the 14th Annual Newport Beach Film Festival (http://www.newportbeachfilmfest.com) brings the best of classic and contemporary filmmaking from around the world to Newport Beach for eight spectacular days, April 25 May 2, 2013.
The Newport Beach Film Festival (NBFF) will showcase more than 350 films from 50 countries and host nightly special events, red carpet galas, compelling conversations with filmmakers, international spotlight events and seminars. The Festival offers filmgoers unique opportunities to mingle with celebrities, filmmakers from around the globe, and film industry professionals in a beautiful seaside locale.
OPENING & CLOSING NIGHT GALAS
The Newport Beach Film Festival will open with the West Coast Premiere of the documentary BROADWAY IDIOT which takes a behind-the-curtain look at how Green Day's punk rock, blockbuster album American Idiot, became an acclaimed musical. The red carpet screening of Broadway Idiot will take place on Thursday, April 25th, 2013 at 7:30pm at Edwards Big Newport (300 Newport Center Drive) followed by a gala reception at Fashion Island (401 Newport Center Drive) where American Idol winner Taylor Hicks will perform.
On Closing Night, NBFF proudly presents the West Coast Premiere of THE WAY, WAY BACK starring Steve Carell, Sam Rockwell, AnnaSophia Robb and Toni Collette and directed by Nat Faxon and Jim Rash. The film follows 14-year-old Duncan spending his summer vacation with his mother, her overbearing boyfriend, and his daughter. Having a rough time fitting in, the introverted Duncan finds an unexpected friend in the gregarious manager of the Water Wizz water park. Through their funny, clandestine friendship, Duncan slowly opens up to and begins to finally find his place in the world all during a summer he will never forget. The closing night film and party will take place at Via Lido Courtyard (3417 Via Lido, Newport Beach, CA 92663).
WORLD PREMIERES
The 2013 Newport Beach Film Festival will screen over fifteen world-premiere feature films including AND NOW A WORD FROM OUR SPONSOR starring Parker Posey and Bruce Greenwood, B-SIDE; THE GOLDEN SCALLOP starring James Cosmo; I AM I; IN LIEU OF FLOWERS; IN SECURITY starring Michael Gladis and Ethan Embry; LETS ROLL; THE O'BRIENS; TOUCHDOWN NEWPORT; WALK ON; WE'VE GOT BALLS; WELCOME TO THE JUNGLE; and A FISH STORY.
SPOTLIGHTS/FEATURES
Highlights of this years festival include 40 feature films including Australian Spotlight DRIFT, starring Sam Worthington, Lesley-Ann Brandt and Xavier Samuel; A SINGLE SHOT starring Sam Rockwell, William H. Macy and Ted Levine; SOME GIRL(S)starring Adam Brody and Kristen Bell; WHAT MAISE KNEW starring Alexander Skarsgard, Steve Coogan and Julianne Moore; THE ICEMAN starring Michael Shannon, Chris Evans and Winona Ryder; STUCK IN LOVE starring Greg Kinnear, Logan Lerman, and Jennifer Connelly; WELCOME TO THE JUNGLE starring Adam Brody, Kristen Schaal, and Jean Claude Van Damme; THE EAST starring Ellen Page, Alexander Skarsgard and Patricia Clarkson and I AM I starring Simon Helberg, James Morrison and Jason Ritter.
ACTION SPORTS
The NBFF Action Sports Film Series, an international showcase of films celebrating athletes, visionaries, filmmakers, cinematographers, pioneers, environmentalists, entrepreneurs, artists and designers who have shaped the action sports culture and cultivated its progression with their innovation, energy and creativity. Co-produced by the Newport Beach Film Festival and Orange County-based production company ChopShop, with support by SKATEBOARDER Magazine, SURFING Magazine, the NBFF Action Sports Film Series will spotlight 18 films from around the world including, BIRDMEN: THE ORIGINAL DREAM OF FLIGHT, a documentary about wingsuit skydivers; ISOLATED, a film about a group of intrepid surfers searching for the worlds last undiscovered waves, narrated by Ryan Phillipe; and THE MOTIVATION, a chronicling of eight of the worlds best pro-skateboarders as they prepare for the upcoming Street League Championship in New York City, starring skateboarding headliners like Rob Dyrdek, Paul Rodriguez and Ryan Sheckler.
ART, ARCHITECTURE + DESIGN
NBFFs award-winning Art, Architecture + Design series will showcase 10 films from around the world including: 16 ACRES, the story of how and why the historic rebuilding of New Yorks World Trade Center came to be; BENDING STICKS: THE SCULPTURE OF PATRICK DOUGHERTY, focusing on one mans artworks consisting largely of bending and shaping sapling trees; COAST MODERN, which takes a look at Modernist architecture on the west coast, traced from 1926 to the present; and IF YOU BUILD IT, a heartwarming film about a duo of design professionals who use their teachings and compassion to help a struggling North Carolina school district.
COLLEGIATE
The Newport Beach Film Festival will present a Collegiate Showcase featuring fresh cinematic works produced by collegiate filmmakers from our eight partnering SoCal Institutions: USC, UCLA, CSU Fullerton, CSU Long Beach, Chapman University, Orange Coast College, Saddleback College, and CalArts. Each year the Festival gives students from these Southern California colleges and universities an opportunity to showcase their short films on the big screen and engage in post screening Q&A sessions with the filmgoers. The Festival offers students an opportunity to connect with film industry professionals, new audiences, alumni, media and other filmmakers.
DOCUMENTARY
NBFF Documentary Film Series will showcase 19 films from around the world, including: LOVE, MARILYN featuring Elizabeth Banks, Lindsay Lohan, Evan Rachel Wood, Ben Foster, Uma Thurman, Paul Giamatti, Viola Davis, Jeremy Piven, Ellen Burstyn, Adrien Brody, Marisa Tomei and Glenn Close; TERMS AND CONDITIONS MAY APPLY; OUT OF PRINT narrated by Meryl Streep; CASTING BY starring Marion Dougherty, Woody Allen, Jeff Bridges and Robert Redford; HOW TO MAKE MONEY SELLING DRUGS from Executive Producer Adrian Grenier starring 50 Cent, David Simon and Russell Simmons.
SHORTS PROGRAMS
The Newport Beach Film Festival continues its proud tradition of hosting some of the best shorts filmmakers in the world with its numerous and genre-spanning shorts series. Uniquely curated into thematic programs, the Festival will screen over 200 short films in categories ranging from romance to animation, from comedy to documentary.
ENVIRONMENTAL
The Newport Beach Film Festival partners with many local environmental organizations to raise awareness of important issues affecting our environment through cinema. The Festivals Eco Spotlight is REVOLUTION from Director Rob Stewart and Executive Producer Gus Van Sant. Other highlights include CRITICAL MASS; THE FRUIT HUNTERS and LA SOURCE. All films in this series cover a wide spectrum of eco-conscious topics including water quality, natural resource preservation and the the effects of globalization.
MUSIC
The Newport Beach Film Festivals highly popular Music Series continues to expand for the Festivals 14th year. The Music Film Series features 9feature narrative and documentary films that put music center stage highlighting musical performances, historic headlines and the unique stories behind struggling musicians. The punk band, Green Day, is featured in two documentaries: the Opening Night Film BROADWAY IDIOT and