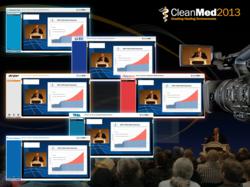 Jamestown, NY (PRWEB) April 18, 2013
In yet another example of the power of running a Hybrid Event, Digitell,Inc. announced today that registration numbers for Practice Greenhealths (PGH) upcoming CleanMed 2013 Live Stream are climbing rapidly, and will easily surpass levels set in 2012.
April 24 through April 26, 2013, PGH will hold its annual CleanMed event in Boston, and Digitell, Inc. will be there to capture those sessions, and to broadcast several of them live to an ever-growing audience via their Syndicast technology. The following companies will be streaming the event to their web sites for their employees, customers or prospects: VHA, Kaiser Permanente, Amerinet, BD, Kimberly Clark, Premier, Stryker and Barr Foundation.
By allowing sponsors to embed the live stream from our annual conference into their own websites, were able to take our messages further than we could on our own, and the sponsors are able to engage with their customers and prospects using content rather than marketing or advertising, explains Laura Wenger, Executive Director of Practice Greenhealth. Were also hoping that by giving potential attendees a taste of our event, we can turn them into physical event attendees next year.
To register to watch the Live Stream for free, go to Premier's Web Site.
Ironically, the event will also take place during the same week that communities across the country will celebrate Earth Day 2013.
Practice Greenhealth is the nations leading health care community that empowers its members to increase their efficiencies and environmental stewardship while improving patient safety and care through tools, best practices and knowledge.
The history of Practice Greenhealth began in June of 1998, when the American Hospital Association and the US Environmental Protection Agency signed a landmark agreement to advance pollution prevention efforts in our nations healthcare facilities. Today, Practice Greenhealth is the nation's leading membership and networking organization for organizations in the healthcare community that have made a commitment to sustainable, environmentally preferable practices.
That fact that CleanMed 2013 will take place the same week as Earth Day did not escape VHA Corporate Citizenship and Sustainability Director Terri Scannell, who said that CleanMed and Earth Day both share many of the same philosophies regarding efforts to protect the environment. Scannell also praised Digitell for providing a means to bring several of the key sessions from CleanMed to those who cant physically attend the event.
CleanMed is a place to share ideas, think imaginatively and be inspired by creative solutions regarding sustainability in the health care sector, VHA Corporate Citizenship and Sustainability Director Terri Scannell said. CleanMed offers exceptional education opportunities, and by utilizing Digitells state-of-the-art Syndicast technology, we can stream the education live through our Web site to VHA member hospitals and employees who are unable to physically attend the 2013 event in Boston. Our collaboration with Digitell is exciting and will help us connect with key audiences in a way that is cost effective and environmentally friendly.
The relationship between PGH and Digitell has grown stronger over the past couple of years, and Digitell, Inc. President James Parker knows why.
Data shows that the world is heading more and more towards Hybrid Events, and the success we are having with PGH is just one example of why we are leading the charge into that area.
Parker stressed that the time is now to start building an online audience, and for organizations to just sit back and watch things happen without coming onboard could be detrimental to the growth of their organization.
"As organizations look at the digital future, building an online community will be an essential ingredient for success. While there are many social media tools to assist in that process, none of them are more engaging and fruitful as a Hybrid Event. Leveraging your content to drive, and build, your online community is a very powerful tool."